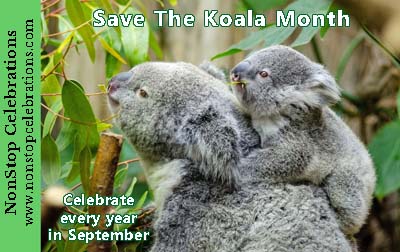 Posted on September 22, 2016 by NSC in September.

Did you know? Millions of Koalas lived happily in Australia when Europeans first arrived. Today fewer than 100,000 remain in the wild. The Australian Koala Foundation (AKF) estimates the number to be between 43,000 and 80,000. That's why we need Save the Koala Month. It's AKF's main fundraiser, held every September to help it […]

Continue Reading... No Comments.